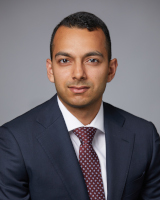 Ramneek joined RVK in 2019 and is an Associate Consultant located in our New York office. He serves a diverse client base, including public and corporate pensions, endowments, foundations, insurance portfolios, and defined contribution plans. As a member of our consulting team, he works on a variety of projects including asset allocation studies, manager structure analyses, investment manager evaluation, client education presentations, and portfolio rebalancing.
Prior to RVK, Ramneek worked as an Investment Analyst at Sony Corporation of America, where he focused on the oversight and administration of the Corporation's defined benefit and defined contribution plans.
Ramneek graduated from Pace University, Lubin School of Business, with a BBA with a dual concentration in Quantitative Business Analysis and Finance. He has passed Level II of the CFA exam.