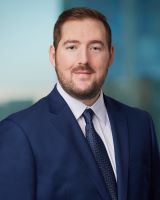 Blake joined RVK in 2023 and is an Associate Consultant based in Los Angeles, California, supported by our Portland Office. He serves a diverse client base, including public and corporate pensions, endowments, foundations, insurance portfolios, and defined contribution plans. As a member of our consulting team, he works on a variety of projects including asset allocation studies, manager structure analyses, investment manager evaluation, client education presentations, and portfolio rebalancing.
Prior to RVK, Blake served as a Senior Associate at Wilshire. His role involved working with defined contribution plans, endowments, and public/private pension plans. Additionally, he worked with the Head of Sustainable Investments to develop portfolio carbon analysis reporting and integrate with major data vendors. He served as Secretary of a Strategic Committee focused on ESG as an investment framework.
Blake graduated from California State University, Northridge with a BS in Finance.