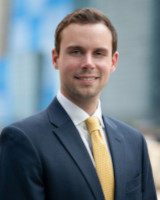 Cameron joined RVK in 2022 and is based in Jacksonville, Florida, supported by our Portland office. As a member of RVK's alternatives research team, he leads manager research efforts for Multi-Strategy Hedge Funds, CTAs, and Funds of Hedge Funds. He works closely with various consulting teams to advise clients with respect to hedge fund portfolio construction.
In addition to his manager research responsibilities, he works as a member of our consulting team on a variety of projects including asset allocation studies, manager structure analyses, investment manager evaluation, client education presentations, and portfolio rebalancing.
Prior to RVK, he worked with institutional investors at various Chicago-based managers including Kabouter Management and Magnetar Capital.
Cameron earned a BBA degree from the Carl H. Lindner College of Business, University of Cincinnati with a concentration in Finance. He holds the Chartered Financial Analyst designation and is a member of the CFA Institute and CFA Society of Jacksonville.