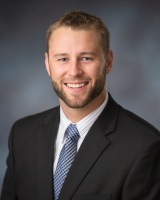 Cole joined RVK in 2011 and is located in our Portland office. He has held a variety of roles during his growth at RVK, including Senior Investment Analyst, Investment Associate, Associate Consultant, and now Consultant. He also co-manages the Associate Consultant / Investment Associate group, handling their account loads and assisting with the group's training and professional development.
Cole helps manage and provide investment consulting advice to a diverse client base including both public and corporate pensions, insurance portfolios, endowments, foundations, Taft-Hartley plans, and various defined contribution plans. He works closely within consulting teams on all aspects of a consulting relatioship, including asset allocation analyses, investment policy development, investment menu design, manager structure analyses, investment manager evaluation, managing transition and rebalancing of client portfolios, and client education presentations. He has also contributed to the firm's forward-looking capital market assumptions process for the last several years.
Cole graduated cum laude from Linfield College with a BS degree in Finance as well as a minor in Economics.