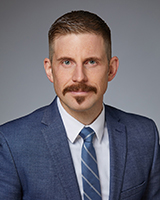 Greg joined RVK in 2013 and serves as a Consultant in our Portland office. He also serves as a member of RVK's Asset/Liability Team and contributes as a subject matter expert on actuarial topics and Liability Driven Investing (LDI) strategies.
Prior to joining RVK, Greg was a Consulting Actuary for both Mercer and Willis Towers Watson (formerly Watson Wyatt) where he served clients sponsoring corporate qualified and non-qualified defined benefit pension plans, Taft-Hartley plans, public pension plans, defined contribution plans, and retiree medical plans.
Greg is an Associate of the Society of Actuaries (ASA), an Enrolled Actuary (EA), and a Member of the American Academy of Actuaries (MAAA). He earned a Master's degree in Mathematics from the University of Texas at Austin, and a Bachelor's degree in Mathematics from Southern Oregon University. Greg is a shareholder of the firm.