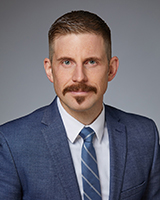 Greg joined RVK in 2013 and serves as a Senior Consultant in our Portland office. He co-leads the firm's Insurance Group, serves as a member of RVK's Asset/Liability Team, and contributes as a subject matter expert on actuarial topics including Liability Driven Investing (LDI) strategies.
Prior to joining RVK, Greg worked as a Consulting Actuary for two of the largest global financial services firms where he served clients sponsoring corporate qualified and non-qualified defined benefit pension plans, Taft Hartley plans, public pension plans, defined contribution plans, and retiree medical plans.
Greg is an Associate of the Society of Actuaries (ASA), an Enrolled Actuary (EA), and a Member of the American Academy of Actuaries (MAAA). He earned an MA degree in Mathematics from the University of Texas at Austin, and a BS degree in Mathematics from Southern Oregon University. Greg is a shareholder of the firm.