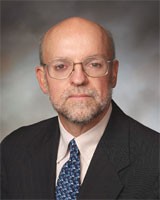 Located in our Portland office, Jim serves as President, Director of Research, and as a Senior Consultant with RVK. He joined the firm in 2004 and has over 40 years of industry experience. As a Senior Consultant, Jim has worked with both public and corporate pension plans, foundations and endowments, and insurance funds.
A sought after public speaker, Jim has delivered original presentations on multiple topics at numerous institutional investment conferences. He is involved in multiple aspects of RVK's specialty consulting practices, most notably Asset/Liability studies and Board governance/investment program structural reviews. Jim's research responsibilities are focused primarily on capital markets issues and investment decision-making.
Prior to joining RVK, Jim was the CEO/Executive Director of Oregon's statewide pension system for all employees of state and local governments, police and fire, teachers and higher education, statewide retiree health care insurance program, and statewide 457 deferred compensation program. He also served on the five-member Oregon Investment Committee, which directed the investment of all statewide funds totaling approximately $45 billion.
Jim's experience also includes serving as Director of Research for PaineWebber, CIO and Managing Director of PNC Asset Management Group/PNC Advisors, and the Deputy Director and Chief Operating Officer of PaineWebber's Investment Banking Division.
Jim earned his Bachelor of Arts degree from Carnegie Mellon University, a Master of Public Administration degree from the University of Washington, and Master of Public Policy degree from Harvard University. Jim is a shareholder of the firm and serves on the firm's Board of Directors.