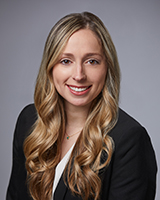 Jordan joined RVK in 2012 and has held a number of roles at the firm including Investment Associate and Associate Consultant. In 2017, she was promoted to Consultant. Jordan is based in Washington, DC, supported by our New York office, and works on a variety of client projects including asset allocation studies, asset class structure optimizations, investment manager searches, and client education presentations.
Within the defined contribution space, Jordan has experience working on menu design reviews and restructures, fee analyses, and dedicated manager research. Additionally, she works with a number of clients on operational consulting projects including search and evaluation for trust/custody providers, third-party administrators, and securities lending agents.
Prior to joining RVK, Jordan worked at Cambridge Associates as a hedge fund analyst where her responsibilities included direct hedge fund manager research as well as reporting and analysis of individual client hedge fund programs. While the majority of Jordan's prior work experience was with endowment and foundation clients, her knowledge and skillset has shaped her ability to work creatively with a number of RVK's pension, defined contribution, and insurance clients.
Jordan earned a Bachelor of Business Administration degree with a dual concentration in Finance and International Business from The George Washington University. She is a shareholder of the firm.