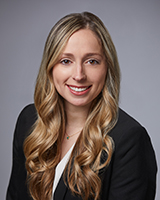 Jordan joined RVK in 2012 and serves as a Senior Consultant based out of Washington, DC, supported by our New York office.
Jordan has extensive experience advising a variety of client types including public funds, endowments and foundations, corporate entities, and insurance funds. She is responsible for a broad range of consulting disciplines, including investment policy, governance, asset allocation, asset class structure, performance evaluation and attribution, investment manager searches, and client education. Additionally, she works with a number of clients on operational consulting projects, including search and evaluation for trust/custody providers, transition managers, third-party administrators, and securities lending agents.
Prior to joining RVK, Jordan worked at Cambridge Associates as a hedge fund analyst where her responsibilities included direct hedge fund manager research as well as reporting and analysis of individual client hedge fund programs.
Jordan earned a BBA degree with a dual concentration in Finance and International Business from The George Washington University. She is a shareholder of the firm.