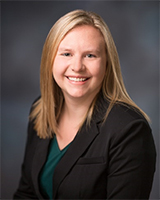 Lindsey joined RVK in 2015 as a Data Analyst and is located in our Portland office. In 2016, she was promoted to Defined Contribution & Public Fund Investment Analyst. In 2017 she was promoted to Investment Operations Associate, and in 2019, Investment Operations Associate Consultant.
Lindsey serves as a core member of the firm's IOSG (Investment Operations Solutions Group) and supports projects relating to trust/custody, recordkeeping, securities lending, transition management, and other operational aspects of institutional investing. Prior to joining RVK, she worked at Carisbrook Technology Services where she was responsible for technology support for Banfield Pet Hospitals. She also worked at Portland State University where she taught first-year German.
Lindsey earned a Bachelor of Arts majoring in German with a minor concentration in Classical Studies from Texas A&M University. She also earned a Master of Arts in Teaching German from Portland State University.