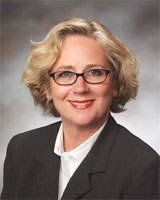 Marcia is a Senior Consultant with RVK and is located in our Portland office. She joined the firm in 1996 and has over 40 years of experience in the investment consulting and asset management industry.
As a Consultant, Marcia has extensive experience working with government entities, endowments, and foundations. Her experience includes developing investment policy statements, formulating asset allocations, developing and implementing asset class manager structure, conducting manager searches, performance attribution and monitoring, and ongoing investment manager due diligence. In addition, Marcia serves as co-lead of RVK's Investment Program Review Practice.
Prior to joining RVK, Marcia was a Vice President and Team Leader for U.S. Bank of Oregon's Corporate Asset Management Team. Earlier in her career, Marcia was an Assistant Vice President at Oregon Bank and worked for U.S. National Bank of Danville, Illinois.
Marcia graduated cum laude from the University of Illinois, earning a BS degree in Agriculture Economics. She is a shareholder of the firm.