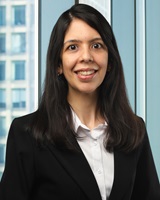 Maritza joined RVK in 2013 and serves as an Associate Consultant in the Chicago office. She has over ten years of experience in institutional consulting analysis and research. Maritza works with several of the firm's public fund clients as well as endowments and foundations and defined contribution plans. Her responsibilities include asset allocation studies, asset class structure analyses, investment manager evaluation, capital markets research, and client educational presentations.
Maritza is also a member of the firm's OCIO search and monitoring team, which is responsible for conducting search, evaluation, and monitoring assignments for clients who wish to engage with a discretionary provider. The team also reviews clients' implementation and governance structures and provides education presentations on the different investment management models.
Prior to joining RVK, Maritza was a hedge fund researcher focused on commodity and inflation hedging manager research at Hewitt EnnisKnupp. She also assisted lead consultants with managing several institutional clients' portfolios including public pension plans and endowments & foundations.
Maritza earned a Bachelor of Science degree in Economics and Statistics from the University of Chicago and is a Chartered Alternative Investment Analyst (CAIA).