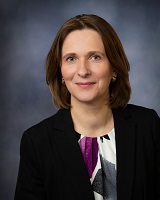 Oksana serves as an Associate Consultant located in our Boise office. Having joined RVK in 2006, she has worked as both an Associate Consultant and as a research contractor supporting the firm's Capital Markets Research department.
As a member of the consulting team, Oksana works closely with clients on a variety of projects, including asset allocation studies, asset class structure analysis, rebalancing strategies, and transition management. She is also involved in setting the firm's annual capital markets assumptions and conducting internal capital markets research studies.
Prior to RVK, Oksana worked as a Senior Consultant for LECG LLC in Washington, DC. She graduated from Truman State University with a BS degree in Finance and a minor in Economics and has an MBA with a Finance concentration from the University of Maryland, Robert H. Smith School of Business.