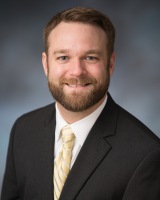 Reed joined RVK in 2014 as a Senior Alternatives Manager Research Analyst and is located in our Portland office. In 2015 he was promoted to his current position of Manager Research Consultant. Reed is a member of the Investment Manager Research Team and leads due diligence efforts for multi-asset strategies including Global Tactical Asset Allocation (GTAA), Diversified Inflation Strategies (DIS), Style & Alternative Risk Premia, Risk Parity, Multi-Asset Absolute Return, Currency Hedging, Plan-level Overlays, Global Listed Infrastructure and Natural Resources Equity.
Prior to RVK, Reed was an Investment Analyst for Heintzberger Payne, where he served as a member of the discretionary asset manager's investment committee, conducted investment manager research on fixed income and alternatives strategies, proposed and executed trades, and reviewed portfolios for adherence to the investment policy.
Reed graduated magna cum laude with a BA degree in Political Science and a BBA from Pacific Lutheran University, and earned an MSc. degree in Finance & Investment from the University of Edinburgh. He is a CFA charterholder and a member of the CFA Society of Portland. He is a shareholder of the firm.