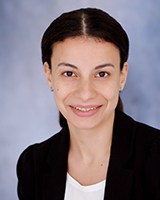 Sarah joined RVK in 2015 and serves as a Consultant in our New York office. Her responsibilities include asset allocation studies, investment policy review, fee structure analysis, investment menu design, and spending policy analysis.
Sarah also serves as part of our firm's DC Solutions Group on a variety of projects and research efforts, including custom target date funds, managed accounts, retirement income replacement analyses, and lifetime income solutions. As a member of RVK's Capital Markets Team, she assists in setting the firm's capital market assumptions and conducting various capital market and investment research.
Prior to joining RVK, Sarah was an investment analyst at AMS Consulting, where she focused on investment performance evaluation, asset allocation studies, and portfolio risk monitoring.
Sarah earned a BA degree in Economics from Alexandria University. She holds the Chartered Financial Analyst (CFA) designation and is a member of the CFA Institute and the New York Society of Security Analysts.