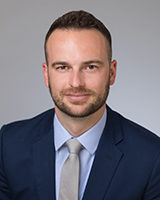 Spencer joined RVK in 2008 and is located in our Portland office. In 2014, he was promoted to Consultant, in 2017, he was named Department Manager of our Associate Consultant/Investment Associate group, and in 2019, he was promoted to Senior Consultant.
Spencer's career at RVK has been focused on providing investment consulting advice to many of the firm's endowment and foundation, public fund, Taft Hartley, high-net-worth families, and corporate clients. His responsibilities include asset allocation and policy setting, investment manager research and due diligence, forward-looking capital market assumptions, asset class portfolio structuring, and many of the firm's internal research projects.
Spencer graduated cum laude from Linfield College with a Bachelor of Science degree in Finance. He is a shareholder and serves on the firm's Board of Directors.