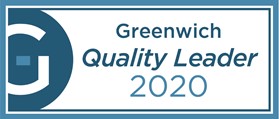 Since 1985, we have been offering our clients strategic investment advice based on our fundamental values of trust, client service, and professional expertise. RVK is proud to be named a Coalition Greenwich Quality Leader among large US investment consultants for a fourth year in a row! Coalition Greenwich is an industry-recognized independent third-party firm that conducts an annual study of plan sponsors and asks them to rate their consultants on a series of key metrics. RVK ranked first (or tied for first) in 11 of the 14 key metrics:
Advice on Long-term Asset Allocation (#1)
Communication of Philosophy and Beliefs (#1)
Proactive Advice and Innovative Ideas (#1)
Usefulness of Written Investment Reviews (#1)
Client Satisfaction with Manager Recommendations (#1)
Responsiveness to Client Requests (#1)
Sufficient Professional Resources to Meet Client Needs (#1)
Reasonable Fees Relative to Services Delivered (#1)
Timeliness in Providing Written Info/Reports (#1)
Advice on DC Plan Structure and Design (tied for #1)
Usefulness of Personal Meetings (tied for #1)
RVK is proud to receive this noteworthy award!
RVK offers a full range of investment consulting services, including asset allocation optimization, investment manager research, performance reporting, and investment policy and guideline development to more than 400 investment plans located throughout the United States.
Read more about RVK's core values: Trust, Client Service, and Professional Expertise.
*Between July and October 2020, Coalition Greenwich (previously known as Greenwich Associates), conducted in-person and phone interviews and online surveys with 856 professionals at 704 of the largest tax-exempt funds in the United States, including corporate and union funds, public funds, endowments and foundations, insurance general accounts, and healthcare organizations, with either pension or investment pool assets greater than $150 million. Study participants were asked to provide quantitative and qualitative evaluations of their asset managers and investment consultants, including qualitative assessments of those firms soliciting their business and detailed information on important market trends. RVK is one of three firms recognized in the large investment consultant category. The ratings may not be representative of any one client's experience with RVK; rather they are representative of those clients that chose to participate in the survey. The results are not indicative of RVK's future performance. To read the Coalition Greenwich article, please click here.